What Is the Typical Timeline for Building a Luxury Home near Asheville, NC?
As inventory levels in luxury communities continue to decline, more and more determined homeowners are purchasing lots and going about the process of building their idyllic mountain estate from the ground up.
Constructing a home offers complete control over the design process and materials. However, supply chain issues are apt to throw off even the best of timelines. The following guide will explain how to plan for a luxury home construction and how to avoid setbacks.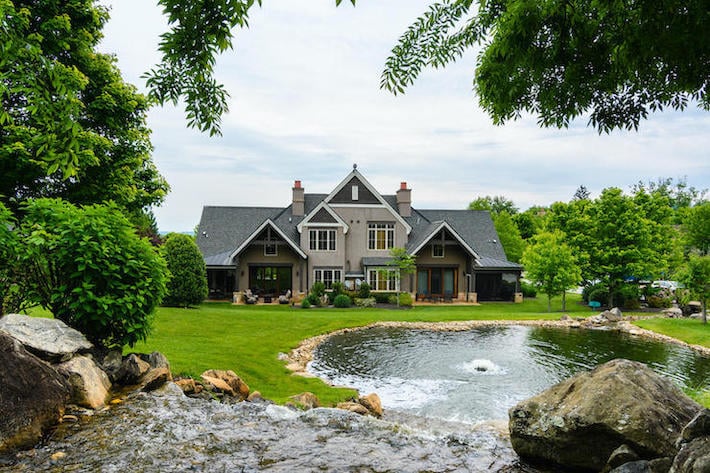 How long does it take to build a luxury house?
In our experience, currently (and this timeline is a moving target), it takes 18–24 months to build a 5,000 SF luxury home in Western North Carolina, assuming construction begins before winter. Supply chain issues are pushing the timeline closer to 24 months. In 2020, we saw the increased cost of materials vary from 35%–65%.
Read more: How Much Does It Cost to Build a Luxury Home Near Asheville, NC

Sample timeline for building a luxury home: 2 years and 3 + months
Here is a simple timeline of the construction process based on our experience building luxury homes on spec.
Months 1–10: design & review
The first six to ten months are usually dedicated to the design and review phase. This typically includes tasks such as:
Selecting a plot of land
Selecting an architect
Creating the home design
Selecting a contractor
Obtaining permits
Reviewing and signing the contract
Preparing the site
Months 11–13: land preparation and foundation
Clearing, grading, and foundation can take about 90 days, depending on the time of year in which the construction begins.
Months 14–16: framing
Framing takes another two to three months. During this period, the contractors will also typically install the mechanicals, such as HVAC, electricals, and plumbing, as well as add insulation and drywall.
Months 17 + : finishing
The remaining details, from trim to cabinets to the ceiling, can easily take up to 12 months. Future homeowners have a lot of decisions to make at this state, including choosing:
Tiling, flooring, & carpeting
Trim, paint, & other interior finishes
Exterior finishes
Appliances
Landscaping
While this is typically how long it takes for us to complete a luxury home, it's not necessarily how long a prospective homeowner will have to wait to move in.
With our WCR Luxury Spec Home Program, we often deliver luxury homes to the buyer in six to 12 months, depending on which stage of the build prospective homeowners enter the process.
This way, homeowners get to skip the most tedious part of the home building process, yet enjoy the fun of personalizing their home toward the end.

How to avoid taking extra time to complete the build
We see the most issues in the first 12 months, when new homeowners are deciding on a design and trying to get the home off the page and into the ground. Delays and other issues frequently occur later in the process as a result of homeowners changing their mind.
Here are some tips to shorten the learning curve and avoid potential issues while building your dream home:
Pre-construction
Tips:
Select a contractor with a good track record. A seasoned REALTOR® can often recommend a reliable contractor, and even tell you which ones to avoid.
Ensure your chosen contractor is not already at capacity.
Make design decisions early and stick to them.
Plan to start construction from Spring to Fall.
Ask your REALTOR® if they know of contractors who seal and turn on the HVAC system after partially finishing a house. We know of contractors that have offered this for high-end luxury home builds in order to protect a project from the elements—especially valuable in a region with heavy rainfall.
Construction
Tips:
Be available. Changes in environmental conditions and other unforeseen issues at this stage may require additional communication or changes to the plan.
Changes made in the middle of construction can cause issues and delays. To prevent delays, order appliances 12 months in advance. Prior to the pandemic, appliances were usually on radar about two months in advance, but the world has changed, and it doesn't appear to be changing back any time soon.
Similarly, make decisions about materials early, and resist the temptation to change your mind. Currently, supply chain issues are prevalent, so last-minute changes could cause delays.
Read more: Luxury Home Features and Design: Essentials and Inspirations for 2022

Conclusion
Even the best laid plans can go awry, and new home construction provides many opportunities for issues. After years of watching projects take far longer than needed and homeowners struggle with construction issues, Walnut Cove Realty established the Luxury Spec Home Program.
In essence, the program handles everything from purchasing the lot to designing the home to framing, taking into account key layout and design elements that have a tendency to cause duress for homeowners.
At the time in which the spec home is sold, the new homeowners can make small layout adjustments and focus all their attention on the interior details, making the final product their perfect mountain escape.
LEARN MORE >>