5 Ways Marketing a Luxury Home is Different than a Typical Home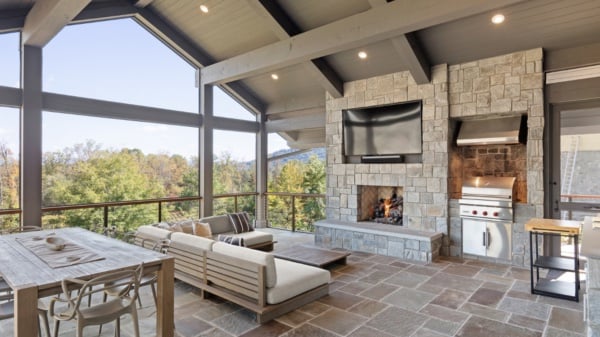 Everyone loves to look at luxury homes. But only the most discerning buyers choose to purchase exclusive, executive estates.
How can you, a luxury home seller, be sure you're attracting the most qualified buyers for your luxury home, not just local lookiloos? And how can you ensure that your property doesn't languish on the market while equivalent homes find new owners in no time at all?
You need an experienced luxury REALTORⓇ who understands the unique and challenging marketing needs of your high-end listing. At Walnut Cove Realty, we understand the nuances of your particular property, how to market it, and how to capture the target buyer demographic.
Here are just five of the many ways marketing a luxury home is different than a typical home:
Experience Matters
The luxury home market is different from the greater real estate market. This is especially true in the mountains of Western North Carolina, where it is not uncommon to have a modest home sitting on 30 acres of beautiful mountain land, a newly renovated downtown condominium, or an exquisitely appointed executive home in a gated golf community—all priced in the top 10% of the market. Furthermore, there are many nuances to communicating with potential buyers, both visually and in conversation.
You need an agent who understands those differences, who has focused their career on selling luxury properties, who understands the current sales pace in your community, and who has the real estate credentials or designations to prove it.
It's Important to Take an Active Approach
Every luxury home is different, and the luxury home market fluctuates regularly. This has especially been true over the past two years. For that reason, it's important to present more than a canned marketing approach for your listing. From setting the price of your home to home staging and photography, every element of your marketing plan should be in line before your home hits the market. Even after your listing is live, it's important to maintain an active approach to the listing. Your agent should have a deep network of potential buyers that they can mine for interest. Regular exposure through digital media, video, and social media to those contacts is key.
You Need Global Exposure
In Western North Carolina, many high-end buyers come from outside the region. So, a plan that includes social media and affiliations with global networks, like Luxury Portfolio InternationalⓇ, is instrumental to your success. LPI attracts a powerful, invitation-only collection of firms that consistently receives many accolades. Our participation in this exclusive, invitation-only network allows Beverly-Hanks and Walnut Cove Realty to market your property to targeted luxury buyers nationally and internationally. LPI's member companies represent luxury experts and buyers in 800+ major cities from Bangkok to Barcelona, offering your home truly global exposure to only the most discerning buyers.
Communication is Key
WNC's luxury home market shot up 86% from 2020 to 2021. When homes are selling this frequently, it's important for you, a luxury home seller, to stay abreast of your home sale every step of the way. You will want an agent who is comfortable with a range of points of communications (from phone to email to social media) and who is quick to reply to questions you may have. More importantly, an agent's communications skills do not only benefit you directly. They also benefit you in the sale of your home, since they also speak to their sales skills and receptivity in replying to potential buyers' agents.
It Never Hurts to Have a Little Extra Help
As The Cliffs at Walnut Cove's market leader, we at Walnut Cove Realty recognize that even our most experienced agents need support to execute a successful sale in today's complex market. Our Luxury Marketing Program provides sellers with a personalized marketing plan designed specifically for their luxury home. The package is delivered through the cooperation of your WCR agent and our experienced Luxury Marketing Specialist, Sandra Alguire. Walnut Cove Realty also employs a talented administrative support staff and award-winning marketing team. Together with your luxury listing agent, our team ensures that your luxury home listing receives the most comprehensive, professional attention possible.
Sell Your Luxury Home Today with Walnut Cove Realty!
For more than 10 years, Walnut Cove Realty has been a trusted and valued partner for those seeking or selling luxury properties in Western North Carolina. With a wealth of industry experience, the trusted real estate sales team at Walnut Cove Realty has first-hand knowledge about each home, homesite, and the distinctive lifestyle at The Cliffs at Walnut Cove because several members of the team are not only members but live in the community. In 2021, Walnut Cove Realty participated in 108 (90%) of the 120 real estate transactions in The Cliffs at Walnut Cove for a record volume of $114.2 million.
Contact us today to speak with a Walnut Cove luxury home expert.