Walnut Cove Realty's Luxury Spec Home Program is changing the face of Asheville's most prestigious neighborhoods
Walnut Cove Realty is changing the face of Asheville's most prestigious neighborhoods with their Luxury Spec Home Program.
The December Issue of The Laurel magazine highlighted Walnut Cove Realty's solution to a shortage of luxury homes that is plaguing the Asheville market, they have launched an innovative Luxury Spec Home Program.
"It came out of a grassroots effort," says Josh Smith, president of Walnut Cove Realty. "We continue to see people coming out of areas like Houston, Chicago and the northeast and there wasn't anything for them to buy." The realty firm partnered with their trusted builders and residents of The Ramble and Walnut Cove to fund the construction of several large, luxury homes. The Walnut Cove Realty team drew on their extensive experience with the market and the modern buyer to build a house with all the popular features, many of which have become more important since the pandemic: an office on the main level for working from home, flex space for hobbies and a home gym, and – perhaps most importantly – a short build time.
The Luxury Spec Home Program puts most of the labor in front of the buying process, so a buyer can arrive later in the construction process and choose the finishing touches to personalize their space. "By choosing floors and paint, granite and cabinet hardware, they feel like they've just designed their home, but they don't have to dedicate the previous eighteen months to get to that point," says Smith. "Depending on the point of construction a buyer makes a purchase, they could actually move in within months".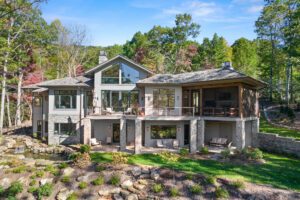 Butch Heatherly of Heatherly Construction was one of the founders of this unusual approach and the first to partner with Walnut Cove Realty to create a luxury spec home. "I went to my designer and architect and I said, 'I want to design a house that 90 percent of the market is going to like.'' The first house built by Heatherly Construction at Walnut Cove sold before the foundation was even laid, and that success has continued as the partners have really dialed into what the buyers want and sales continue. Heatherly helps buyers understand how to spend their money wisely on beautiful features that matter.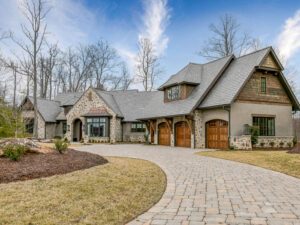 Tom Dillard of Dillard Jones Construction is also working on two homes – one in The Ramble and one in Walnut Cove – as part of the Luxury Spec Home Program. "People can come in and it's already up and going," he says. "From furniture to the lighting plan to the permitting. We have those details figured out so it's faster and efficient, and they get what they want sooner: a personalized state-of-the-art home."
"For the foreseeable future, in our part of the region, it's going to be hard to get enough product in front of our luxury consumers," says Smith. "We get calls every day asking how many homes are available, and as long as that's the case, we'll continue to work hard to provide them with excellent homes in the most beautiful neighborhoods."
Writing credit to Emma Castleberry and Rebecca Dougherty